Comic Con gent 2019 Spring Lisa's Adventure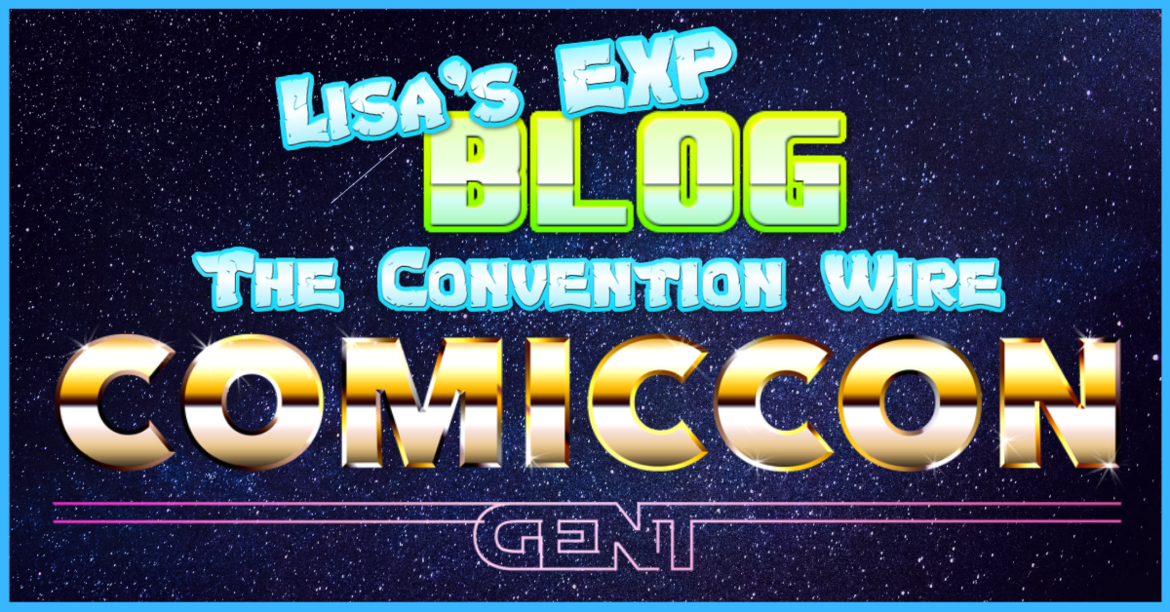 Hi there,
For me just another weekend at another con! This time I was at Comic Con Ghent.
The drive to Ghent was really sunny. I said let's hope it will stay this way!
Comic Con Ghent is not a really big con, but because of that, it gives a very cozy feeling.
But finding the guests and the photo booth was just a challenge!
When you got in, you had to go to the first floor by an escalator.
There were a few booths with some merchandise.
On the other side of this hall was the silent disco. The people participating were surprisingly listening to the song Leef! from the Dutch singer André Hazes JR.
Both not really my thing, but it was very funny to see.
I was not sure where I could find the guests.
So I decided to go to another hall on the first floor. There were more booths with great merchandise.
Yes, finally in the third hall were the guests.
Dan Fogler and Dickey Beer were not sitting at their place behind the tables.
Already a few people were waiting for Dan Fogler's cue to open.
When he finally arrived around 10:30 there was already a very long queue.
After leaving the cue, I started my search for the photo booth. For an awesome photo with Dan Fogler.
When I asked, they told me surprisingly, you have to leave the con and then get back in by the entrance.
In the hall where the entrance is, is also the start for the cue.
I quickly went outside and off course, as it just had rained, I stepped in the deepest puddle there was around the whole building!
Just this morning, I had the great idea to wear open shoes today! Brilliant! So with one soaking shoe and a wet foot, I went back inside.
Already I could see the immense cue for his photo shoot.
Standing in his cue, I saw a few people passing by with food from the Vietnamese food truck standing outside. It looked very tasty. The food truck would definitely be my last stop for today.
It is too bad that Dickey Beer had to cancel. Luckily he is attending Comic Con Amsterdam on August 31 & September 1.
This will be the next con I will attend.
Unfortunately, I am getting a break from going to cons. Because all of the cons on my calendar between now and Comic Con Amsterdam have either been canceled or postponed until 2020.
I am still thinking of attending the German Castle Con at Schloss Burg in Solingen on August 24 & 25.
They do not have their full line up announced just yet.
But for now, the Night King (Vladimir Furdik) will be there!
At Tiny Titan, there is not 1 not 2 but 4 funkos available from the Night King!
The normal one: https://www.tinytitan.be/Game-of-Thrones-Night-King-44.
Sitting on Throne: https://www.tinytitan.be/POP!-Game-of-Thrones-Night-King-Sitting-on-Throne-74.
And one on Icy Viserion: https://www.tinytitan.be/Game-of-Thrones-Night-King-on-Icy-Viserion-56.
I got already 2 funkos signed by Vladimir Furdik last year when he was at Comic Con Amsterdam. He was a pleasure to meet!
Be sure to let me know in the comments, which funko you would get signed and why?
Lisa