Hi there! Welcome to As We See It: Movies & Series Guest Reviews.

I am Lisa and today it is my turn to tell you about my night at the Dutch Dumbo premiere in Amsterdam.

Last year, I saw on Facebook a photo of visionary director Tim Burton, who looks out of a locomotive with a very big satisfying smile on his face.
The first photo released of his newest cooperation between himself and Disney.
He will direct the live action version of Dumbo. Just by seeing this photo I knew this movie would be great. I could not wait for this movie! Unfortunately, I had too.

When I found out you could buy tickets for the Dutch premiere of Dumbo at Tuschinski in Amsterdam, I just had to go! What an amazing location to see this movie!

In the queue for the red carpet, a gentleman told me that the movie is a real tearjerker. To be on the safe side, he has therefore brought handkerchiefs.

In the foyer, everybody is welcomed with a drink. The inside looks like you stepped inside a vintage circus tent. In the center of the foyer, they had built a little stage.
A juggler was throwing pins in the air. His audience is standing in a circle around him.
On my left, I saw a statue of everybody's favorite little elephant Dumbo.
You could get a picture taken together with him. Of course, I had to do this.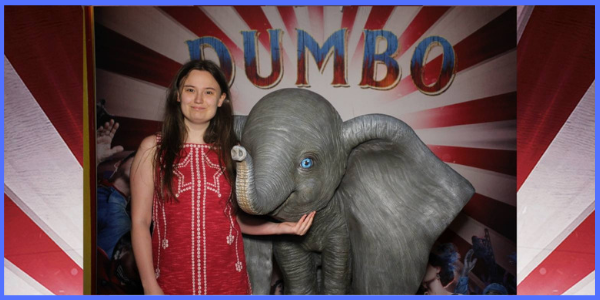 Yes, it is an amazing movie.

When the name of director Tim Burton appears at the end credits, everybody stands up and clap their hands.
I have never experienced this in a cinema before.
What a great movie. He overdid himself once again. Bravo!

This heartwarming movie will find his way into your heart and remain there. It will make you cry with emotion but also because of laughter.

Fly to the cinema and before or after that, to Tiny Titan for the magical funkos.

https://www.tinytitan.be/POP!-Disney-Dreamland-Dumbo-512-Dumbo and https://www.tinytitan.be/POP!-Disney-Fireman-Dumbo-511-Dumbo.

Until next time and remember it's a Lisa adventure!