Opening Night of The Avengers: Endgame by Lisa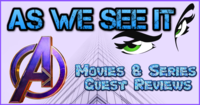 Hi there! Welcome back As We See It: Movies & Series Guest Reviews. I am Lisa, and this time I will tell you about my evening at the opening night of Avengers: Endgame. Yeah, finally Avengers: Endgame hits the cinemas. Offcourse, opening night was sold out. After the devastating events caused by Thanos in Avengers: Infinity War, the remaining Avengers: Iron Man, Captain America, Thor, War Machine, Hulk, Black Widow, Ant-Man, Rocket Raccoon and Nebula assemble once more to go against their greatest enemy in Avengers: Endgame. I discovered the badass Captain Marvel is definitely my favorite Avenger. What a marvelous movie! You can find a lot of funkos from Avengers: Endgame here at Tiny Titan. Even the Amazon exclusive version of War Machine in Quantum Realm Suit:...
Tim Burton's Dumbo - Disney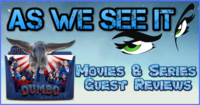 Hi there! Welcome to As We See It: Movies & Series Guest Reviews. I am Lisa and today it is my turn to tell you about my night at the Dutch Dumbo premiere in Amsterdam. Last year, I saw on Facebook a photo of visionary director Tim Burton, who looks out of a locomotive with a very big satisfying smile on his face. The first photo released of his newest cooperation between himself and Disney. He will direct the live action version of Dumbo. Just by seeing this photo I knew this movie would be great. I could not wait for this movie! Unfortunately, I had too. When I found out you could buy tickets for the Dutch premiere of Dumbo at Tuschinski in Amsterdam, I just had to go! What an amazing location to see this movie! In the queue for the red carpet, a gentleman told me that the...